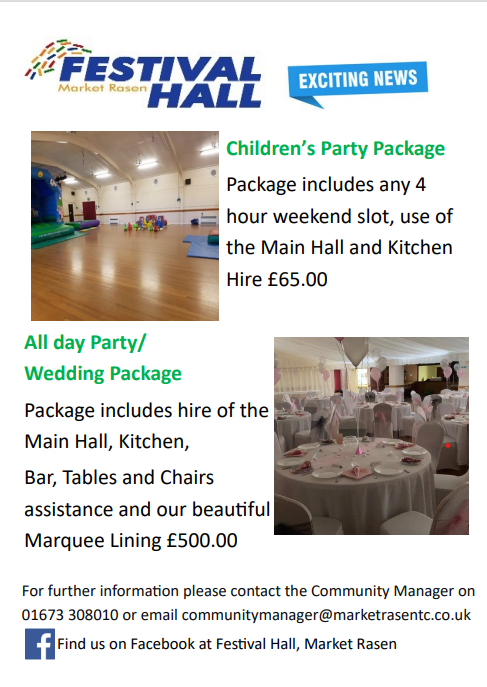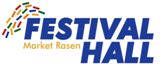 The building was built in 1972. The Festival Hall serves the Town for a range of facilities.
The Festival Hall complex consists of the Main Hall, Committee Room, large catering kitchen and bar. The Committee Room can be used on its own, or booked with a combination of other rooms.
The maximum capacity of the Main Hall is 150 persons and 25 persons for the Committee Room.
The venue can be hired for wedding receptions, formal dinners, children's parties, or discos etc.
The whole building is accessible with wide doors and ramps where necessary.
There is a large stage area which, in conjunction with the Committee Room used as dressing rooms, is a superb theatre suitable for many types of stage production Variety shows, Pantos or plays can all be accommodated for. There is a PA system available if required.
For further information or to check availability please contact the Community Manager by telephone: 01673 308010 or 07984 223674 email communitymanager@marketrasentc.co.uk .
(Please always check availability with the Community Manager before sending in a booking form. If a booking form is completed and sent without checking availability, please wait for booking confirmation before proceeding with booking arrangements.)
Hire Charges
Click here to view hire charges for 2023.
Booking Form
Click here to download a booking form.
To make an on-line booking, click the button below
What's on
Regular events at the Festival Hall (Click each item for more details)
Line Dancing - Every Thursday
Rasen Memory Cafe - First Friday of every month 10-12 a.m.
What's on in October