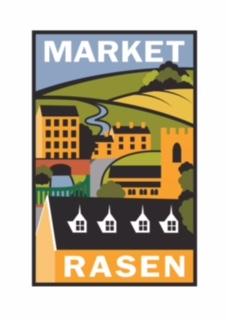 Market Rasen is a small, picturesque market town, currently approaching some 4000 inhabitants, situated on the western edge of the Lincolnshire Wolds. It was originally known as East Rasen, with Middle Rasen being the more important location, and West Rasen following on from there but became prominent when it was granted the right to a market.
It has always been a quiet town, with obvious agricultural ties because of its situation, but at one time in the 19th century boasted nearly a dozen breweries or beer houses, dealers in coal, lime, sand and agricultural requisites, and manufacturers of items as diverse as tiles and washing machines/mangles. There were many inns/coaching houses, and the town was a centre for the carters from surrounding villages, who converged on the town for market days.
The Parish Church dates to Norman times, and the town was on the Turnpike from Gainsborough to Louth (the present A631) from 1756. It received piped water supplies in 1857, a railway linking it to both Grimsby and Lincoln in 1848, its own fire brigade prior to 1850, a Mechanics Institute in 1836, and its own newspaper in 1856. The 19th century population of some 2300 to 2900 inhabitants, had quite a bit to occupy them, or so it seems, and several churches, chapels and schools. It is presently best known for its racecourse, one of the busiest in the UK in terms of days when racing takes place.